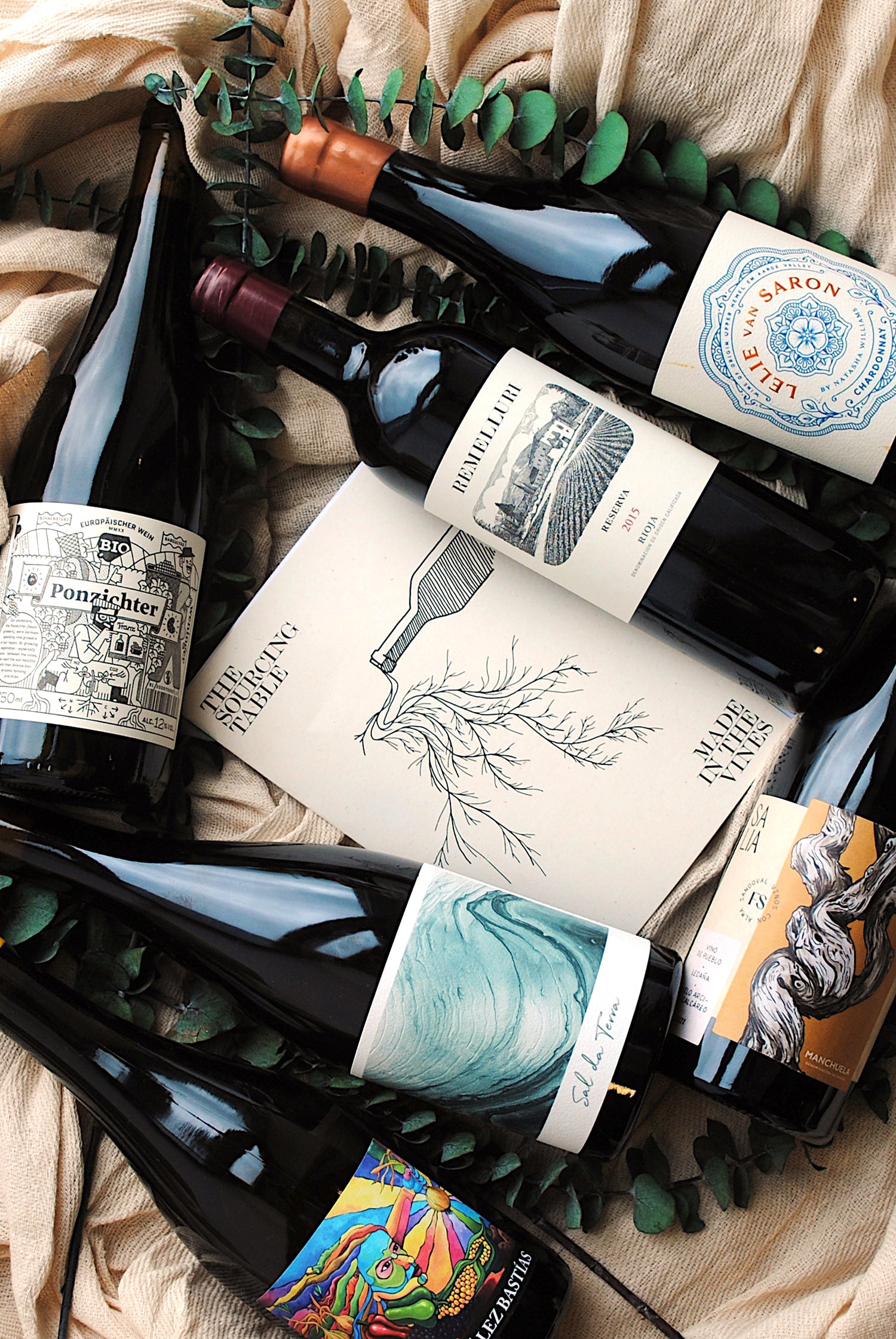 The Sourcing Table Wine Club
Our wine club is no ordinary subscription.

We have a personal relationship with our featured producers, working with them directly and sourcing only the most interesting, delicious wines for our members.
These are wines you'll rarely find anywhere else, often including bottles exclusive to you in the UK, and with a saving of at least £20 built-in. Not only do you get unique, one-of-a-kind wines, but you also get exceptional value too.

This is the perfect Wine Club for a curious drinker. Whether you're already clued up on wine, or a total novice, our Wine Club is designed for everyone. Each case also includes detailed notes on the wines and producers, so you can really get to know the people behind the bottle.

Due to the scarcity of the wines featured in each case, wine club membership is strictly limited, so you may need to join a waiting list if we are currently at capacity.

How Our Wine Club Works
How it Works
With our Wine Club, you can choose between a quarterly delivery of 6 or 12 bottles of wine, delivered right to your door, plus a whole host of exclusive membership benefits, including:

- 10% off across The Sourcing Table website*

- At least a £20 saving made with every case

- Behind-the-scenes information following the creation of new and exclusive wines

- Wine Club exclusive offers and savings

- Priority access to limited wines and wine tastings

You are not tied into the Wine Club and your subscription can be cancelled at any time. A new, specially curated limited-edition case of wine will be sent to you every 3 months from the date of subscribing.

*excluding some mixed cases and rare wines
The Current Selection
EDITION #12
Made in the Vines
Introducing Edition #12 of our Wine Club! With this latest quarter, we explore wines'Made in the Vines' - a selection of farming-led bottles from winemakers who firmly believe that great wine is made in the vineyard. 
Eulogio Pomares, 'Sal da Terra' Albariño, 2021 - Rias Baixas, Spain

Lelie van Saron, Chardonnay, 2021 - Hemel-en-Aarde, South Africa
González Bastías, Tierra Madre, 2019 - Maule Valley, Chile
Remelluri, Reserva Rioja, 2015 - Rioja, Spain
Franz Weninger, Ponzichter, 2020 - Sopron, Hungary
Finca Sandoval, Salia, 2020 - Manchuela, Spain

Bottles illustrated by Ellen

Join the wait list
Join the Club!
Join our wine club and choose between a quarterly mixed case of 6 or 12 bottles (if you choose the 12 bottle option, you'll receive 2 bottles of each wine). Your first case of wine will be delivered 3-4 days after signing up, with your sitewide 10% discount available immediately after registering your wine subscription account. Our wine club subscriptions are priced at £150 or £280 per quarter.
Previous Wine Club Editions
Edition #11
The Road Not Taken
'The Road Not Taken', emphasised winemakers and wines that give a whole new perspective to the regions they work in, and the grapes grown there.

El Montanista, Criollas Blancas, 2019
Independent Wine, 'Mixtura', 2019
Jolie Laide, Trousseau Gris, 2019
Ovum Wine, EZYTGR, 2020
Dominio del Curazo, Pais, 2021
Joan d'Anguera, 'Les Maiols' Garnacha, 2021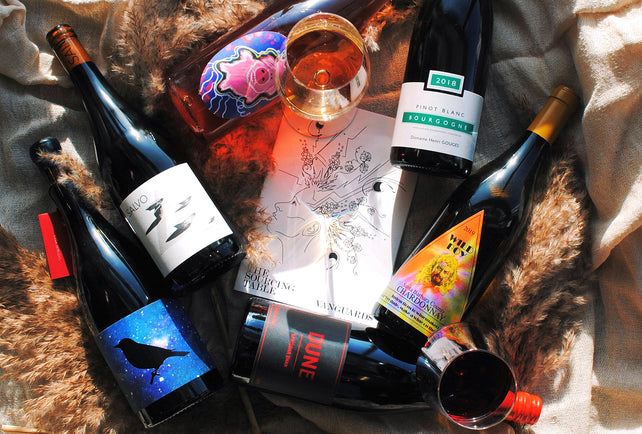 Edition 10
The Vanguards
An innovative case, selected around the theme of innovations.'The Vanguards'puts focus on six trailblazing producers who have helped define or even redefine, their region, grape and/or style. 
Tim Wildman, 'Piggy Pop' Pet-Nat, 2021
Domaine Henri Gouges, Pinot Blanc, 2018 
Au Bon Climat, 'Wild Boy' Chardonnay, 2019
Vina Zorzal, 'Golerga' Garnacha, 2020
Triangle Wines/PerSe, 'Salvo' Malbec, 2020
Dune, 'Mingsha Shan', 2019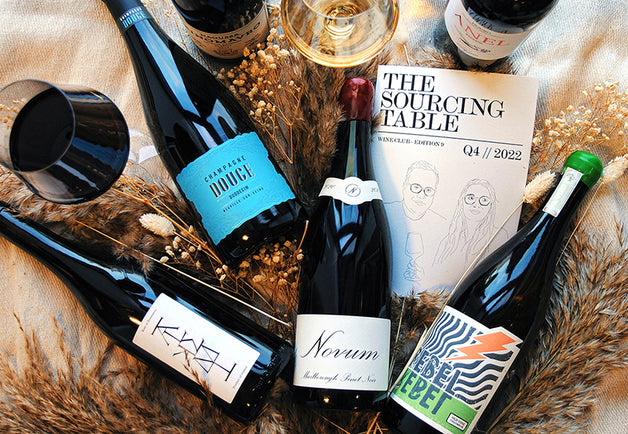 Edition 9
The Sourcing Table
Carefully selected by our two resident wine gurus. Will and Ellen have put their 12+ years of combined wine experience to bring you a case of serious wine gems.
Douge, 'Duodecim' Extra Brut, 2016
Markovitis Winery, 'Alkemi' Xinomavro, 2021
Rebel Rebel, Old Vine Colombar, 2021
Novum, Pinot Noir, 2020
Artisans Vignerons de Náoussa, Náoussa Xinomavro, 2017 
Márcio Lopes, Anel Reserva, 2020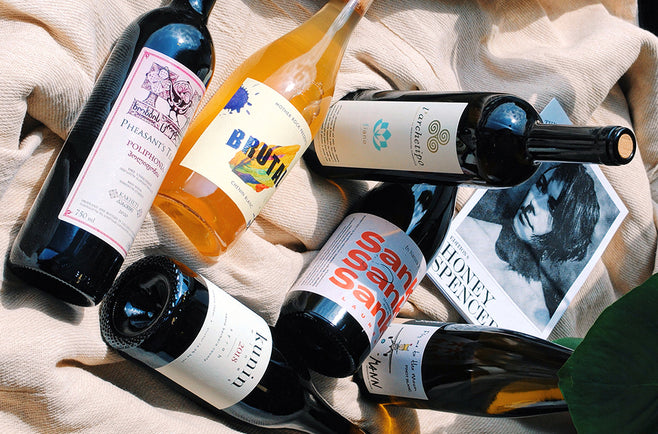 EDITION 8
Honey Spencer
Award-winning Sommelier Honey, has enthusiastically selected this wonderful, diverse case of wines which offers a snapshot into the wine lists she crafts. A voyage of discovery, captained by the woman who has become a leading authority on all things natural wine!
Mother Rock, 'Brutal!!!' Chenin Blanc 2021
L'Archetipo Fiano 2020
Domaine Mann, 'Fly Me To The Moon' Pinot Blanc 2019
Kunin Wines, Syrah 2018
Pheasant's Tears, 'Poliphonia' Red, 2020
Schödl, Sankt Laurent 2021

EDITION 7
Joe Woodhouse
This latest edition of The Sourcing Table wine club, has been selected by a dear friend of ours: the talented chef and food photographer Joe Woodhouse, who has just published his debut cookbook: 'Your Daily Veg'.
The six delicious bottles, in this case, have been selected with summer in mind, and paired with excellent recipes from the book.
Domaine de la Sénèchalière, 'Miss Terre', 2020
Matthias Warnung, 'Basis' Grüner Veltliner, 2020
Sandhi Wines, 'Central Coast' Chardonnay, 2020
Domaine Chamonard, Morgon, 2018
El Risco, Bobal, 2019
Juan Antonio Ponce, 'Clos Lojen' Bobal, 2021
Edition 6
David Silva & Jonatan Garcia
For this edition of The Sourcing Table wine club, we enlisted the help of two great friends who share a common passion for great wine, great winemaking, and their native home of Gran Canaria. The six delicious bottles, in this case, were selected by legendary Spanish footballer David Silva and acclaimed Tenerife winemaker Jonatan Garcia:

Barco del Corneta, 'Cucu' Verdejo, 2019
Georg Breuer, 'Rudesheim' Estate Riesling, 2019
Bergström, Old Stones Chardonnay, 2019
Quinta Milu, Milu, 202
Bodegas Lanzaga, 'Corriente', 2018
Domaine Equis, 'Equinoxe', 2020

EDITION 5
Tillingham Inspirations
This wine club edition was selected by Tillingham wines, one of England's most innovative vineyards, dedicated to regenerative viticulture and creative winemaking methods. This case of 6 wines, hand selected by winemaker Ben Walgate, showed incredible diversity and mirrors Tillingham's ethos.
Vigna San Lorenzo, Col Tamarie Frizzante, 2020
Domaine Chavy-Chouet, Bourgogne Blanc 'Les Femelottes', 2020
Jean-Paul et Charly Thevenet, Morgon, 2020
Suertes del Marques, 7 Fuentes, 2019
Peixes, Piexes da Estrada, 2017
The Hermit Ram, Amphora Pinots, 2020

EDITION 4
Comando G, Going back to the Roots
An equal weighting between red and white wine featured in this wine club edition, hand selected by Comando G masterminds Dani and Fernando, each showcasing an example of winemakers going back to their roots.
Agricola Foradori, 'Fontanasanta' Manzoni Bianco, 2020
De la Riva, Manzanilla Fina, NV
Ezio Poggio, 'Caespes' Timorasso, 2019
Arianna Occhipinti, 'SP 68' Rosso, 2020
Fedellos dos Couto, 'As Xaras', 2019
Pax Wines, 'Sommers Vineyard' Mission, 2019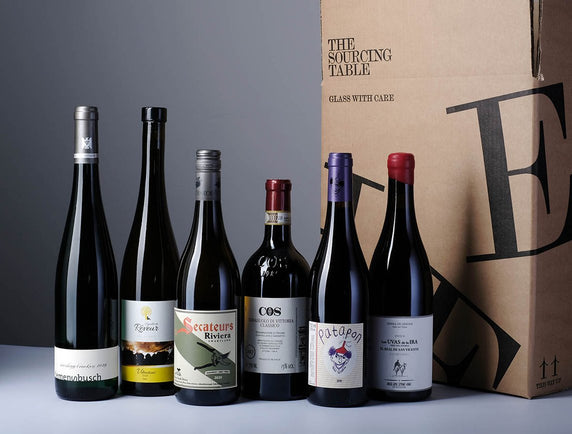 EDITION 3
Rajat Parr, A Sense of Place
Six incredible wines, 3 white and 3 red, that perfectly showcase the vineyards from which they were grown were the stars of this edition of our wine subscription, all selected by Award-Winning Sommelier and SOMM star Rajat Parr.
Clemens Busch, Riesling Trocken, 2019
Vignoble de Reveur, 'Vibrations', Riesling 2019
AA Badenhorst, 'Secateurs Riviera' Chenin, 2020
COS, Cerasuolo di Vittoria, 2017
Domaine le Briseau, 'Patapon' Rouge, 2019
Daniel Landi, 'Las Uvas de la Ira', 2019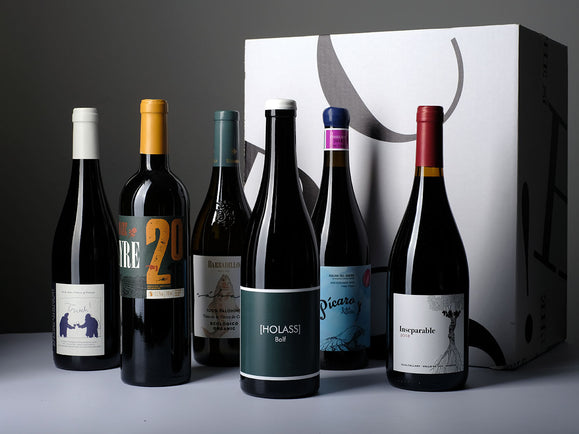 EDITION 2
Paz Levinson's Collection
Six outstanding wines, 4 red and 2 white, chosen by multi award-winning Sommelier, Paz Levinson took centre stage in the second edition of The Sourcing Table wine club. This made for an eclectic case mirroring Paz's global travels and tastes, showcasing wine producers who are true pioneers in their respective regions.
PerSe, 'Inseparable' Malbec, 2018
Holass, 'Balf' Kekfrankos, 2017
Dominio del Aguila, 'Picaro del Aguila' Tinto, 2018
Domaine Catherine & Pierre Breton, 'Trinch' Bourgueil, 2019
Barbadillo, 'Sabalo', 2019
Clos Lapeyre, Jurancon Sec, 2018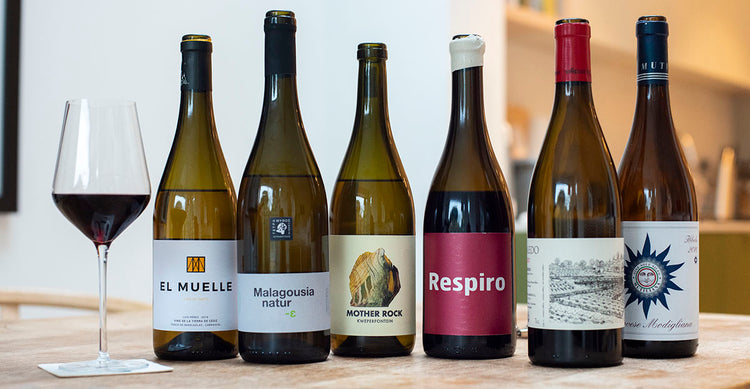 EDITION 1
Jamie Goode's New Fine Wines
The inaugural curated case, the very first edition of our wine subscription, was carefully chosen by renowned wine critic and The Sourcing Table editor Jamie Goode. He opted for 6 astonishing wines representing what we believe to be the new fine wines of the moment.
Luis Perez, 'El Muelle de Olaso', 2018
Tetramythos, Malagousia 'natur', 2019
Mother Rock, 'Kweperfontein', 2017
Cabecas do Reguengo, 'Respiro' Tinto, 2016
Vinedos do Gabian, 'Xanledo', 2017
Mutiliana, 'Ibbola', 2016